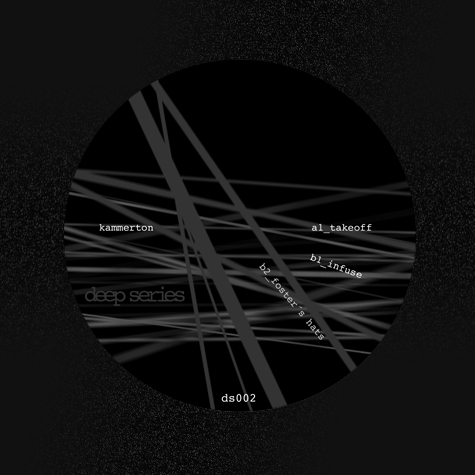 A1 Takeoff
Audio clip: Adobe Flash Player (version 9 or above) is required to play this audio clip. Download the latest version here. You also need to have JavaScript enabled in your browser.
B1 Infuse
Audio clip: Adobe Flash Player (version 9 or above) is required to play this audio clip. Download the latest version here. You also need to have JavaScript enabled in your browser.
B2 Foster's Hats
Audio clip: Adobe Flash Player (version 9 or above) is required to play this audio clip. Download the latest version here. You also need to have JavaScript enabled in your browser.
Cat.Nr.: Ds002 · Format: Vinyl/Digital · Audio files are for preview purpose only and are therefore of low quality.
Our second imprint on "Deep Series" features an up-and-coming artist from Moscow. As a studied pianist Kammerton knows the fine art of Funk and Soul, which serves him well in writing mesmerizing Deep House and Dub Techno. His DJ-Sets have been compared to the likes of Moodyman or Theo Parrish, giving you high quality unapologetically. On the A1 you will find "Take Off", a funky house tune founded on subsonic bass-rolls underneath gently tweaked sequences. This groove to make you move will get any floor going with its characteristic live Arrangement. "Infuse" on the flip is somewhat slower at 110bpm and surprises with broken beats, chords and vibras – the real Funk. The B2 "Fosters Hats" has shown its full potential in the club, with a steady build-up of drums and chores. This peace of black gold belongs into every house-dj bag!
Supported by: Jimster, Luke Solomon, Chris Carrier, Chris Lattner, Ellen Alien, Chris Wood, Nick Curly, Robert Dietz, Varoslav, Nekes, Mr. Statik, tINI, Technasia, Steve Lawler, Retrac, Osunlade, Dan Drastic, V.Rotz….
More about: Kammerton